Actress Lena Dunham Takes Weird Flirting To A New Level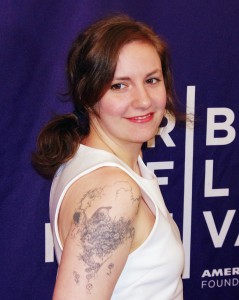 Star and writer of hit comedy 'Girls', Lena Dunham, is an extremely talented young wo Lucky forman in many ways, but when it comes to flirting her talents could be said to be limited. She is currently in a happy relationship with musician Jack Antonoff, but in her single days, she had a rather unusual way of flirting with handsome eligible bachelors – offering them a part in a project in that she is working on…the part of her dad!
Lena wrote on on her official Twitter account: "For a while there, if I was attracted to someone, I'd propose that they star in the biopic of my father's life I was developing #PickUpLines." Luckily Lena can stop asking men to be her dad (weird) as she has been with guitarist Jack for almost two years, and is blissfully happy about.
Lena says: "It makes me happy to be in a relationship that is really mutually supportive, where I am not making compromises ans I feel understood…it makes me feel good to be able to tell the girls on Twitter that you don't have to date a guy who bores you a little but he's nice, and you also don't have to date a guy that is a jerk, but you think his art is interesting. There is a person that exists in the middle."
Lena's bizarre flirting technique